Florencia Pinar
Florencia Pinar (1470?-1530?)
Also known as Florencia del Pinar.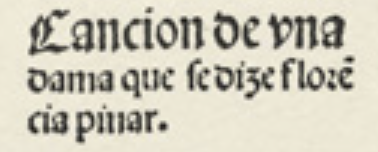 siento yo graue passion
sin sentir nadie la mia
—Florencia Pinar
Works by Florencia Pinar
Cancionero general de Hernando del Castillo (1)
Biography
Assembled in the 1511 Cancionero general recopilado por Hernando del Castillo, the poetry she wrote stands as the only remaining evidence we have of the life of Florencia Pinar. To have published anything in this compendium, she would have had to have lived at court and possessed some level of education, an uncommon achievement for a woman of her time even of the upper class. Nevertheless, the Cancionero reinforces her social class by calling her "dama". We can reasonably associate her with the court of Isabel I by a treatise written by her poet brother between 1496 and 1498. The association with her brother Gerónimo, who also appears in the Cancionero, has generated some difficulty distinguishing her poetry from his. While a few other women also appear in the Cancionero, they appear only in glosses by men. This makes Florencia the only woman with the distinction of having complete, unmediated poems in the collection, leading many to consider her the first woman to write poetry in Castilian.
Annotated Bibliography
Pina Weissberger, Barbara F. "The Critics and Florencia Pinar: The Problem with Assigning Feminism to a Medieval Court Poet." Recovering Spain's Feminist Tradition, New York, Modern Language Association, p. 31-41.
The author hopes to show that the two ways that critics have observed Pinar's poetry both run the risk of reinforcing the traditional masculinist and idealist view of courtly love and women's role in it. She critiques the analyses made by Alan Deyemond, as well as several others, by pointing out flaws in their interpretations of Pinar's poetry. The author argues that Pinar uses an elusive, yet commanding writing style in order The author shows that the two ways critics have observed Pinar's poetry both run the risk of reinforcing the traditional masculinist and idealist view of courtly love and women's role in it. She critiques the analyses made by Alan Deyemond, as well as several others, by pointing out flaws in their interpretations of Pinar's poetry. The author argues that Pinar uses an elusive, yet commanding writing style in order to advocate for change. In the end, the author concludes that Florencia Pinar and her literary work should be investigated further as the general public has only a fraction of the picture when it comes to understanding who she was and what she did. (Annotation by Maxwell Marks)
Posted
8 November 2021
Last Updated
11 May 2022